This article is part of the Woodleaf Farm Organic Systems Description.
Figure 1. Total pounds of insecticides applied: 1998-2014. In 2006, Woodleaf stopped spraying for worm pests, such as oriental fruit moth (Grapholita molesta) and codling moth (Cydia pomonella). Spinosad (Entrust) sprays for Western flower thrips (Frankliniella occidentalis) began in 2007, decreased in 2010, and were eliminated in 2014. No sprays were applied in 2008 due to crop loss from freeze damage. All insecticides were a pplied with an airblast sprayer using 200-300 gallons of water. (1) Bt = Bacillus thuringiensis, kurstaki (DiPel DF, Valent). (2) Pyganic = pyrethrins 1.40% (PyGanic, Valent). (3) Spinosad = spinosyn A and B 80% (Entrust, Dow Agrosciences).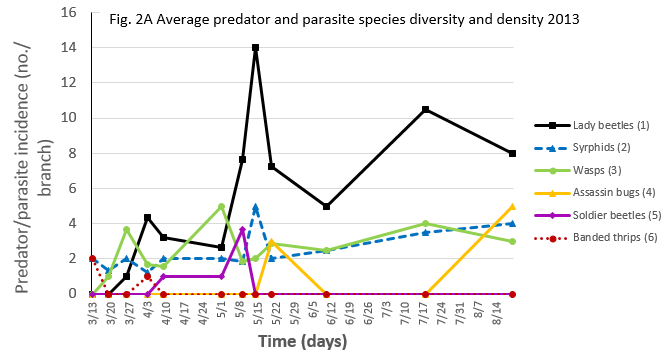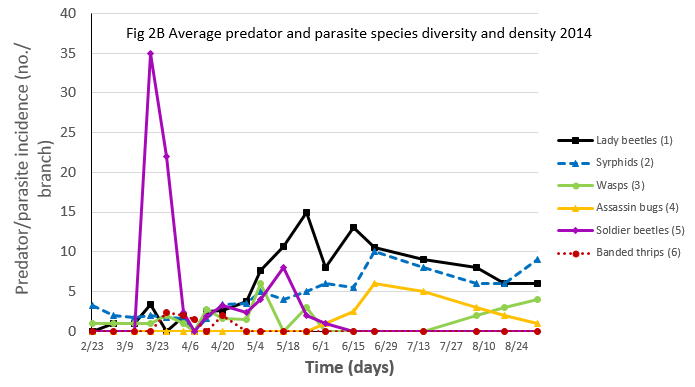 Figures 2A and 2B. Average predator and parasite species diversity and density, 2013 and 2014. Regular field monitoring was conducted March–August, 2013 and February–September, 2014. Two to four samples (10 branches/sample) were evaluated on each date.
(1) Lady beetles (Coleoptera: Coccinellidae). Population density varied seasonally in crop samples, but was more consistent in the living mulch groundcover ( Figs 3A and 3B).
(2) Syrphids (Diptera: Syrphidae). Adults and larvae were relatively consistent throughout the crop growing season.
(3) Wasps in 3 families were observed (Aphidiidae, Braconidae, and Aphelinidae).
(4) Assassin bugs (family Reduviidae). Population density was generally higher in summer.
(5) Soldier beetles (Coleoptera: Cantharidae). Density was higher in late spring.
(6) Banded thrips (Aeolothripidae: Aeolothrips spp.) Population density was higher in early spring.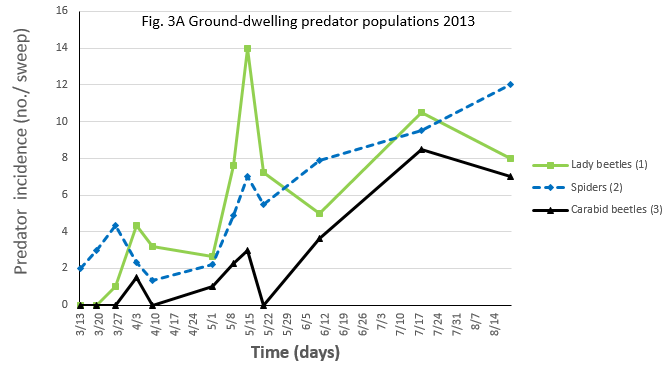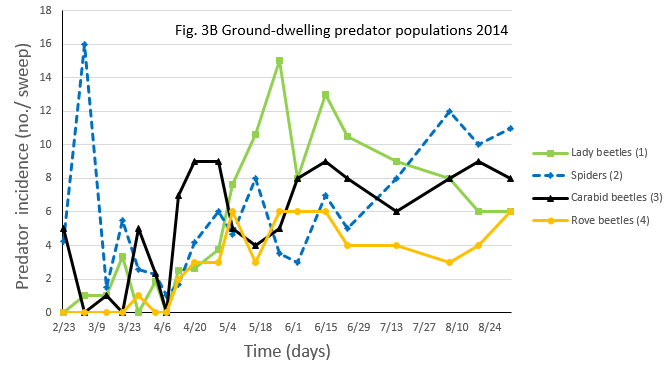 Figures 3A and 3B. Ground-dwelling predator populations, 2013 and 2014. Regular field monitoring was conducted March–August, 2013 and February–August, 2014. Two to four samples (20 foot sweeps of the perennial living mulch ) were evaluated on each date.
(1) Lady beetles (Coleoptera: Coccinellidae). Populations made up a large component of the predators found year-round in the living mulch.
(2) Spiders (Araneae). Several species, including an abundance of wolf spiders (Araneae: Lycosidae), were observed in relatively high numbers throughout the crop growing season.
(3) Carabid beetles (Carabidae). Carabids were a regular component of the living mulch predator community year-round.
(4) Rove beetles (Staphylinidae). Rove beetles were not counted in 2013.

These figures are part of the Woodleaf Farm Organic Systems Description
Table of Contents: