Carl Rosato, Woodleaf Farm
Helen Atthowe, Woodleaf Farm
Alex Stone, Oregon State University
Organic Farm System: Woodleaf Farm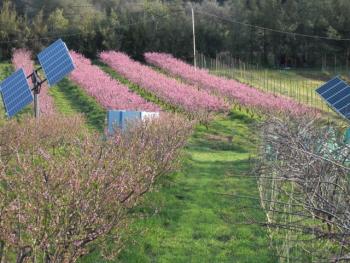 System Overview
Farmers: Carl Rosato and Helen Atthowe
Location: Oroville, in the Sierra foothills of northern California (Fig. 1: Area Map)
Crops: Peaches (4.5 acres), pears (1.5 acres), apples (1 acre), cherries (0.5 acre), plums and pluots (0.25 acre), vegetables and kiwis (0.5 acre)
Woodleaf Farm is known in northern California for its large, unblemished, juicy, and flavorful organic peaches (CUESA). In 2013, the marketable peach crop was 79% premium grade. In 2014, 86% and in 2015, 81% of fruit was sold as premium fruit.
Markets: Regional farmers markets (7 per week) and 10% wholesale to restaurants
Years in organic management: 1982 (certified by CCOF) to present
Total farm acreage: 26 acres
Cropped acreage: 8 acres
Landscape design: Seven 1- to 1.5-acre fields with native oak/pine forest on 90% of field margins (Fig. 2: Farm Fields & Soils Map)
Regional agricultural production: Butte County is a significant producer of tree fruits and nuts. Its 2010 gross agricultural production exceeded $620 million, including $9.7 million from peach production.
Climate and soils: Mediterranean (wet winters, temperatures to 20°F; dry summers, temperatures to 100°F). Annual precipitation is 35 inches. Soils are classified as capability class VII by the USDA Natural Resources Conservation Service and rated as "poor" for agricultural use (Fig. 2: Farm fields & soils map)
Awards: EcoFarm Steward of Sustainable Agriculture Award, 2012.
Woodleaf Farm's focus is on supporting ecological relationships rather than on managing specific crops, problems, or pests. Carl believes that "leaving the soil as undisturbed as possible, annual additions of different kinds of high-carbon organic materials, and soil mineral balancing grows a healthy tree and keeps insect and disease problems in check."
Carl also focuses on habitat-building, saying,"Native forest on field margins and letting the perennial living mulch go to flower brings beneficial biological control organisms into crop fields and has been helpful in keeping insect damage in check over time."
Woodleaf's goals are to optimize soil organic matter, link soil organic matter decomposition to nutrient mineralization, support a diverse soil microbial community, and balance soil minerals. The soil management system (Soil Table 1) includes:
Soil health indicators generally show positive trends (Soil Table 2). Between 1982 and 2014, average soil organic matter increased from 2.2% to 5.1%. The high carbon/low nitrogen nutrient cycling/recycling system results in 10 to 20 inches of annual tree growth; good yields of high-quality, flavorful fruit; high levels of soil organic nitrogen; relatively low levels of soil nitrate-nitrogen; and peach leaf nitrogen in the adequate range.
Macronutrients have increased and are generally balanced at target levels, but some micronutrients (particularly boron) have not increased and are below targets.
Read more about the soil management system at Woodleaf Farm here.
Woodleaf's goal is to build and manage habitat for biological control organisms (e.g., insect predators and parasites, birds, bats, soil and foliar microorganisms). Pests are sprayed only when absolutely necessary. The insect pest management system includes both farm-wide practices (Insect Table 1) and pest-specific strategies (Insect Table 2).
Fruit yield and quality losses to insects have mostly decreased over 30 years, according to Carl. This observation is supported by reduced insecticide use (Insect Fig. 1). Records document less than 10% average fruit damage (Insect Table 3 and Insect Table 4) and high predator/parasite populations (Insect Figs. 2A and 2B, and Figs. 3A and 3B).
Spotted wing drosophila (SWD) remains a challenge at Woodleaf and is not suppressed by the insect pest management system. When unsprayed in 2014, 30% of cherries were damaged by SWD.
Read more about the insect management system at Woodleaf Farm here.
Woodleaf's goal is to prevent disease infection by managing for balanced tree growth and healthy soil, while utilizing good cultural practices. The disease management system includes both farm-wide practices (Disease Table 1) and disease-specific strategies (Disease Table 4).
Fruit yield and quality losses to diseases have declined over time, especially losses to peach brown rot and apple scab, according to Carl. This observation is supported by crop yield and quality monitoring records (2013–2015). Pear fireblight, peach brown rot, and peach leaf curl remain management challenges. Fireblight and peach leaf curl do not appear to be suppressed by Woodleaf's farm design and soil/habitat-building practices. Brown rot may be suppressed, however, since it now occurs at a relatively low level.
Read more about the disease management system at Woodleaf Farm here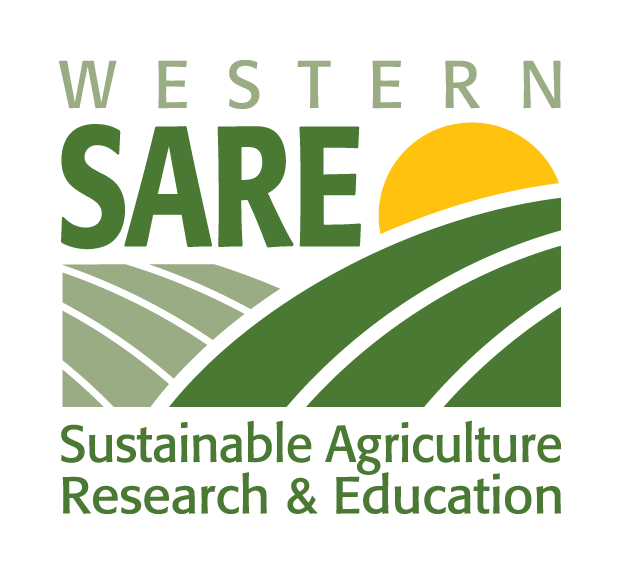 This article was developed with support from USDA's National Institute of Food and Agriculture through the Western Sustainable Agriculture Research and Education program under grant number SW13-017.
This article is part of the Woodleaf Farm Organic Systems Description.
Table of Contents: