Debra Heleba, University of Vermont Extension
About the Course
An Introduction to Organic Dairy Production is a self-directed online course designed for Extension educators and other agriculture service providers, as well as farmers and students who want to better understand certified organic dairy farming. It is made of ten modules on key organic dairy topics, listed below. Each module combines required readings, narrated lessons, optional homework exercises and recommended resources, and end-of-module quizzes. Each module, the individual readings, and the overall course has undergone a peer review and certification check to ensure high quality, accurate certified organic information.
The course is currently being offered on the Extension Foundation's campus site for $150 at: campus.extension.org. Look under "Agriculture and Animals" and then under "Organic Agriculture". The direct link is http://campus.extension.org/course/view.php?id=253. Participants do need a (free) Extension Campus online campus account to log in (see enrolment information below). Continuing education units (CEUs) are available to those Certified Crop Advisors (CCAs) interested; we are able to offer 15.0 units for those who successfully complete the course. This course is a prerequisite to a more advanced course: On the Ground: A Closer Look at Organic Dairy Pastures, Forages and Soils. New in 2021: Even if you do not enroll in the course, the videos from both courses are now available as playlists on the eOrganic YouTube channel here and here.
Course Design
The course is made of ten modules on key organic dairy topics. Each module combines required readings, narrated lessons, optional homework exercises and recommended resources, and end-of-module quizzes.
Module 1: Overview of Organic Dairy Production—An Integrated Approach

Module 1 introduces the subject of organic dairy through basic definitions and philosophies. Students will learn the history of the organic movement and current status of the organic dairy industry based on the most current statistics from the USDA Agricultural Marketing Service.

Module 2: National Organic Program Standards Summary

The goal for Module 2 is to present an overview of the USDA National Organic Program (NOP) standards. This will be a summary of the standards, with emphasis on the sections which are livestock related. This summary will not be comprehensive and is not a substitute for the regulatory text. The full regulatory text can be found at: http://www.ams.usda.gov/AMSv1.0/.

Module 3: Organic Soil Management

Module 3 outlines the basic principles of organic soil management. Healthy soils are the foundation of organic production practices. A healthy soil produces high quality forages and crops that, in turn, create and sustain a healthy and productive herd.

Module 4: Nutritional Considerations for the Organic Dairy Cow

This module covers the nutritional requirements of the organically managed dairy cow, including all the essential nutrients needed to meet the required daily intakes (RDIs) at the various stages of development (i.e., dry cow, fresh cow, pregnant lactating dairy cow, weaned heifer, etc.). The module will also cover the basic process of balancing rations to meet the nutritional requirements under feeding systems typical of an organically managed dairy farm. Finally, the module will instruct participants on how feeds are sampled and submitted for a full nutritional analysis by certified laboratories.

Module 5: Pasture Management

Module 5 covers the basic principles of pasture management. It includes information on grazing system design and determining acreage needs based on livestock dry matter requirements. Also included is information on nutrition, health, soils, and plants as they relate to pasture.

Module 6: Growing and Storing Organic Livestock Forages

High quality forages are essential to successful dairy operations. Module 6 will give an overview of the importance of cropping systems other than permanent pasture. Producing and storing high quality forages increases herd health and overall profitability. This module will review the considerations in planning an organic forage production system.

Module 7: Holistic Herd Health

Organic herd health is based on a "holistic" approach where soil, nutrition, grazing management and animal handling methods merge into a fully integrated system to support the health and well-being of the herd. Benjamin Franklin's quote, "An ounce of prevention is worth a pound of cure," truly applies to successful organic livestock programs. Module 7 details the essential components of the herd health program, including soil management as it impacts forage quality and mineralization of the herd; typical vaccination programs as insurance against disease; and when issues do occur, what you can do to address the problem organically.

Module 8: Udder Health and Milk Quality

This module will cover the essential components of milk quality, how it is defined, assessed and management factors that play critical roles in the outcome. In addition, we will cover what makes organic milk different from its conventional cousin in terms of residues and overall nutrient content based on available data.

Module 9: Basic Principles of Managing Calves Organically

Raising the next generation of replacements is a critical area that is often ignored on a busy dairy focused the milking, feeding, breeding of the lactating herd. Calf rearing methods vary throughout the industry and have a tremendous impact on the future success of the cow.

Module10: The Organic Transition and Certification Process

In this module, you will gain an understanding of the organic dairy certification and transition process. This includes the dairy transition process, the process of becoming certified, the roles of the certifier and inspector, and how (or if) the certifier grants certification.
Sneak Peaks
To get a better sense of what the course includes, see Figures 1 and 2 below.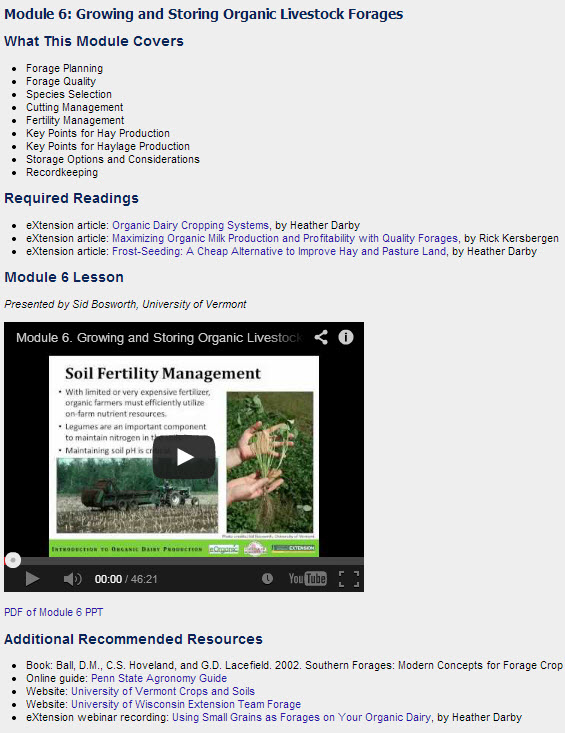 Figure 1. Example of a module with required readings, the module lesson, and additional recommended resources.
Figure 2. Video welcome of the course.
Acknowledgements
The course is a collaborative project of:
With Funding Provided By:
USDA National Food and Agriculture Institute's Organic Agriculture Research and Extension Initiative #2010-51300-21361
California State University Agricultural Research Institute
Authors and Contributors:
Cindy Daley, California State University, Chico
Heather Darby, University of Vermont Extension
Sarah Flack, Sarah Flack Consulting
Sidney Bosworth, University of Vermont
Audrey Denney, California State University, Chico
Debra Heleba, University of Vermont Extension
Karen Hoffman, USDA Natural Resources Conservation Service
How to Enroll
1. Login to the course portal. The course is housed at eXtension's Online campus at: campus.extension.org. If you have not yet been to this site, you will need to create an account. To do so, go to "Login" and click on "Create new account." You will need to complete some basic information and confirm your account via email.
2. Enroll in the course. On the home page of the eXtension Online Campus, you can find the course by clicking on "Organic Agriculture" under the "Agriculture & Animals" theme—the course is the last one listed. Or, simply go to http://campus.extension.org/course/view.php?id=253.
Further Information
For more information, please contact Susan Brouillette at susan.brouillette@uvm.edu