Watch the webinar on YouTube at https://www.youtube.com/watch?v=oC7R1KfMqJw
Slides from the webinar are available here as a pdf: http://cop.extension.org/mediawiki/files/0/0e/BenbrookWebinar.pdf
Resources from the webinar:
Website of the Shades of Green Dairy Farm Management Calculator at the Organic Center: contains information about the calculator, reports and links to download the calculator, user's manual and documentation.
Contact Dr. Charles Benbrook at cbenbrook@organic-center.org
About the Webinar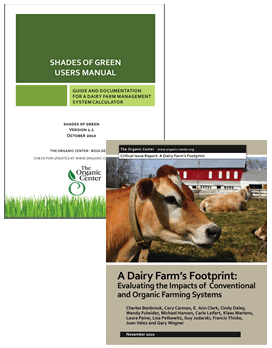 One study concludes that high-producing Holsteins on rbST have a lighter environmental footprint than cows on organic dairy farms, while other studies have reached the opposite conclusion. What gives?
The Organic Center has developed an Excel-based simulation model that estimates the environmental impacts of different dairy management systems. The "Shades of Green" (SOG) dairy farm calculator shows clearly why different studies can and have reached totally opposite conclusions after analyzing essentially the same things.
The SOG calculator is freely accessible (www.organic-center.org/SOG_home), along with a 100-page user manual that includes documentation of its equations and data sources. The manual suggests how to apply the calculator to a given farm, set of farms, or a cluster of changes in a dairy farm management system. The first application of SOG calculates and compares the environmental footprint of two typical, representative conventional dairy farms and two organic farms. The results are summarized in the November 2010 TOC report "A Dairy Farm's Footprint: Evaluating the Impacts of Conventional and Organic Farming Systems."
This webinar will cover the nuts and bolts of the SOG calculator and the results of its first application. Dr. Charles Benbrook, TOC's chief scientist, will present the webinar. Benbrook led the 14-person team that co-authored the new report and helped design and parameterize the calculator.
The SOG calculator quantifies the impacts of dairy farm systems on milk and meat production and gross farm revenue, milk nutritional quality, land use, fertilizer and pesticide use, manure and nutrient wastes generated, and methane emissions. A careful review of previously developed environmental footprint models led to the realization that results have been based on "a year in the life of a cow," rather than the cow's productive life which have excluded consideration of the impacts of dairy farm management systems on cow health and longevity, soil quality and productivity, and overall, lifelong economic returns to a lactating cow. Two major conclusions are reached and will be discussed:
Milk nutritional quality varies greatly, and must be taken into account to avoid bias against grass-based systems and cows other than Holsteins; and
Cow health and longevity, and in particular, reproductive performance, are critical variables in determining a dairy farm's environmental footprint.
The Center is actively recruiting dairy farm management specialists to work with farmers in applying the SOG calculator on dairy farms around the country, and is also hoping to forge new partnerships with research teams working to sharpen the analytical tools accessible to refine future estimates of a dairy farm's footprint.
About Presenter Charles Benbrook
Dr. Charles Benbrook is Chief Scientist at The Organic Center, a national non-profit organization that provides peer-reviewed scientific studies on organic farming. For 18 years, Chuck worked in Washington, D.C. on agricultural policy, science and regulatory issues, including Executive Director of the Board on Agriculture for the National Academy of Sciences, Executive Director of the Subcommittee of the House Committee on Agriculture during the Reagan Administration, and agricultural staff expert on the Council for Environmental Quality during the Carter Administration. For 15 years, he ran Benbrook Consulting Services, where he analysis on a number of agricultural science, technology, public health, and environmental issues. In 2006, he joined The Organic Center as the organization's Chief Scientist. Dr. Benbrook received his PhD in agricultural economics from the University of Wisconsin-Madison and an undergraduate degree from Harvard University. He holds an adjunct faculty position in the Crop and Soil Sciences Department, Washington State University.
About eOrganic
eOrganic is the Organic Agriculture Community of Practice at eXtension.org. Our website at http:www.extension.org/organic_production contains articles, videos, and webinars for farmers, ranchers, agricultural professionals, certifiers, researchers and educators seeking reliable information on organic agriculture, published research results, farmer experiences, and certification. The content is collaboratively authored and reviewed by our community of University researchers and Extension personnel, agricultural professionals, farmers, and certifiers with experience and expertise in organic agriculture.