This webinar took place on April 13, 2023, and the recording will be here within a week of that date!
Biological control is a method of using natural enemies to control pests. Biological control and OMRI-listed insecticides are integral parts of organic vegetable production. This webinar will summarize research data from a Organic Research and Education Initiative funded project that evaluated the compatibility of nine OMRI-listed insecticides and fungicides with eight predatory mite and insect species. This webinar will also provide practical suggestions on integrating biological control and insecticides. It takes place at 11AM Pacific, 12PM Mountain, 1PM Central, 2PM Eastern Time.
About the Presenter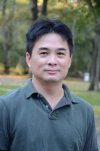 Juang Horng "JC" Chong is a Professor and Extension Specialist in the Department of Plant and Environmental Sciences at Clemson University. JC's program focuses on studying the ecology of pests and developing IPM programs in specialty crops. Three major pests—whiteflies, thrips and twospotted spider mites—are ubiquitous species across multiple cropping systems. JC's program is at the forefront of evaluating new and reduced-risk chemistries against these major pests, as well as evaluating the compatibility of new and existing chemistries against biological control agents.