This webinar by Dr. Bernadine Strik and Amanda Davis took place on December 1, 2021.
About the Webinar
The Northwest (Oregon and Washington) is the largest growing region for blueberry (Vaccinium corymbosum L.) in the USA, accounting for 35% of the total harvested area and 62% of total production in 2020. Long-term research on organic systems for blueberry has been conducted in western Oregon since 2006. Outcomes from trials have had significant impact on production leading to over 20% of the total blueberry area in Oregon and Washington certified organic, and production of 77 million lb (65% of USA organic production). In this presentation the key soil and mulch requirements for blueberry will be highlighted, including use of pre-plant amendments. Important results from research trials will be presented including a 10-year study (2006–2016) comparing planting method, fertilizer source and rate, and mulch in 'Duke' and 'Liberty'.
Cumulative yield was 22% greater on raised beds than flat in 'Liberty' but was not affected in 'Duke'. On average, yield was 4% greater with the low than the more typical high rate of fertilizer and 'Duke' produced 35% less yield with fish than feather meal fertilizer. Mulch had no effect on yield of 'Duke', but 'Liberty' produced 11% more yield with weed mat than the other mulches. Only cultivar affected fruit quality. Weed mat decreased weed management costs by up to 75%, but reduced soil organic matter, and increased irrigation requirement and vole presence. Weed mat has become the most common mulch used in the region. Fertilization with fish and using compost, both containing potassium (K), increased leaf K levels reducing yield in 'Duke'. Growers adopted using lower rates of fish, improving yield and saving up to $800 per acre. In a follow-up study, existing weed mat was replaced and added over the existing organic mulches and soy-protein based fertilizer was used starting in 2017. Stopping use of compost and fertilization with K improved yield in the mature plants by up to 50% in the 4-year study. Adding weed mat over organic mulches improved yield compared to weed mat over bare soil. Yields similar to those of conventional production are possible, however, choice of production system had significant impact on yield, returns, and long-term sustainability.
About the Presenter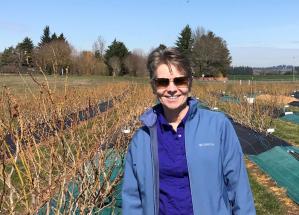 Dr. Bernadine Strik is a Professor of Horticulture at Oregon State University. Her research, extension, and teaching programs focus on physiology, pruning, nutrition, and organic and conventional production systems of berry crops. Bernadine is a world-renowned berry crop expert with over 250 scientific research papers and book chapters published. Dr. Strik is an ASHS Fellow, an OSU Alumni Association Distinguished Professor, and is a Fellow of the International Society for Horticultural Science. In 2021, Bernadine was presented the Duke Galletta Award from the North American Blueberry Council for her high-impact horticultural research in blueberry.