Tariq Alam, Clemson University
Sachin Rustgi, Clemson University
Introduction
Invasive insect pests and pathogens regularly pose challenges for organic producers, and organic pesticides are sometimes needed to minimize losses. All pesticides, including organic ones, must be used according to label instructions. The primary objective of this article is to familiarize readers with organic pesticide labels so that they can fully understand all the components, benefit from the information provided on the label, and stay in compliance with relevant laws and regulations. Organic pesticide labels contain critical information about the safe use and legal handling of the products. In addition, the labels provide instructions on how to minimize risks and maximize benefits. Inconsistent use of a pesticide or noncompliance with a pesticide label is a violation of federal law. Therefore, it is critical to read and understand the label before selecting, mixing, applying, storing, and disposing of an organic pesticide (see Fig. 1).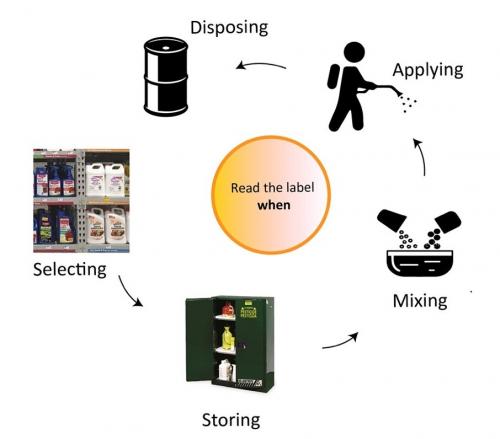 Figure 1. Read the label when selecting, storing, mixing, applying, and disposing of an organic pesticide.
How to Identify an Organic Pesticide
The easiest way to identify an organic pesticide is to look for an organic logo, which is generally present on all pesticides that have been approved for organic production. Organic pesticide labels are similar to synthetic pesticide labels, but they often display either of the two recommended logos shown in Figure 2. The United States Environmental Protection Agency (EPA) recommends using a three-leaf logo for organic pesticides under the National Organic Program [US-EPA]. There are two versions of this logo: one says FOR ORGANIC PRODUCTION and the other says FOR ORGANIC GARDENING (Figure 2a). The FOR ORGANIC PRODUCTION logo is intended for products that are used on crops for commercial production. The FOR ORGANIC GARDENING logo is intended for products used in home gardens. Organic pesticide labels may also display the Organic Material Review Institute (OMRI)'s recommended logo (Figure 2b).
Figure 2a. EPA logos. 2b. OMRI logo.
Although most pesticides for organic production display these logos, it is important to mention that organic pesticide manufacturers are not required to use them. Logo use is voluntary, making it challenging to identify products which have been approved for organic production. However, products that are not approved by the EPA or OMRI are not allowed to use these logos.
IMPORTANT: Before using any pest control product in your organic farming system with or without the EPA logo:
Read the label to be sure that the product is authorized for use on the crop and pest you intend to control, and make sure it is legal to use the product in the state, county, or other location where it will be applied.
Read and understand the safety precautions (such as the use of personal protective equipment) and application restrictions.
Make sure that the brand name product is listed in your Organic System Plan and approved by your USDA-approved certifier. If you are trying to deal with an unanticipated pest problem, get approval from your certifier before using a product that is not listed in your plan—doing otherwise may put your certification at risk.
It is important to note that the terms "natural" and "organic are not synonymous. If something is labeled as "natural," it does not imply that it is allowed in organic production.
Note that, although OMRI and WSDA lists are good places to identify potentially useful products, all products that you use must be approved by your certifier. For more information on how to determine whether a pest control product can be used on your farm, see the related article, Can I Use This Input On My Organic Farm?
Reading the Label
The front side of the label contains the brand name, product type, EPA registration number, EPA establishment number, manufacturer name and address, active ingredient and other ingredients common names, chemical names, net contents, logos, precautionary statements, and an inside booklet (see Fig. 3).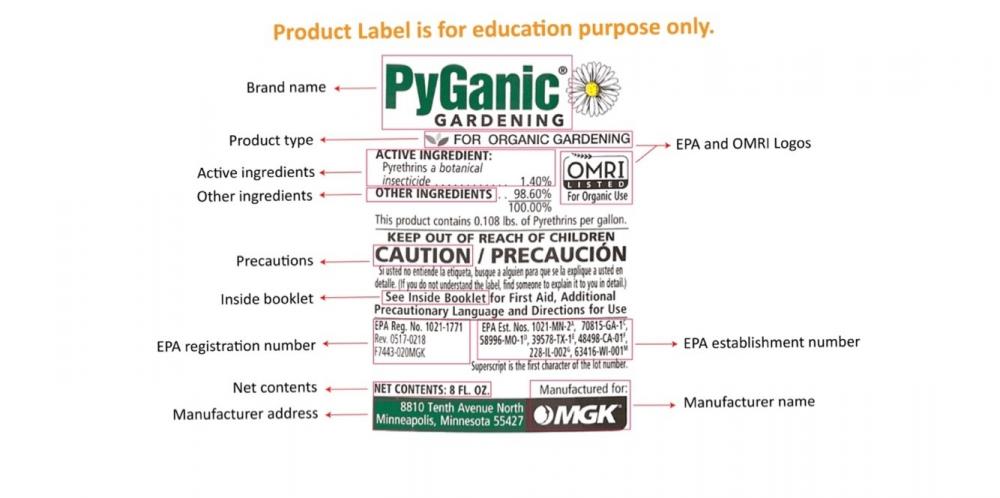 Figure 3. PyGanic® Gardening label containing brand name, product type, EPA registration number, EPA establishment number, manufacturer name and address, active ingredient and other ingredients common names, chemical names, net contents, logos, precautionary statements, and an inside booklet.
Brand Name
The brand, trade, or product name is a specific name that a manufacturer uses to advertise and sell their product.
Product Type
The product type indicates the purpose for which the product can be used. For example, PyGanic® can be used in gardening to control insect pests.
EPA Establishment Number
This number indicates the facility that produced the product.
EPA Registration Number
This number shows that the product has been registered, and the label has been approved by the United States Environmental Protection Agency (EPA).
Ingredients Statement
This statement indicates the common or chemical names of the ingredients that have been used in the pesticide and their percentages.
Active Ingredients
Active ingredients show the chemicals that are used to control the insect pests or pathogens and their total concentrations. All the chemicals are listed by their common names or chemical names.
Other Ingredients
It is not required to list all other ingredients individually. However, their cumulative content in percent must be written. In EPA-certified products, the other ingredients cannot be anything other than organic substances, or substances considered to be a health or environmental risk by the EPA.
Net Contents
The net contents is the total amount that the container holds.
Precautionary Statements
These warnings provide critical information about the possible hazards associated with the product.
Inside Booklet
The booklet contains information about the use of the product, instructions about precautions and first aid in case of accidental exposure and spills.
Manufacturer Name and Address
The manufacturer's contact details are provided in case further information is needed about the product.
Acknowledgements
This work was supported by the NIFA Hatch/Multi-state grant (S009).
References and Citations