Garry Stephenson, Oregon State University
Farmers approach direct marketing in a variety of ways using single or multiple channels. The goal generally is to develop a strategy to sell all the product they produce. This can be through one marketing channel or several. Farms may also add additional direct market channels as the business grows. For instance, many farmers begin with selling through a farmers' market or a roadside stand. As the business grows they can add other direct channels such as a CSA, grocery or restaurant sales. Direct sales channels for specific crops or a segment of a crop may be combined with wholesale channels. The options are nearly endless.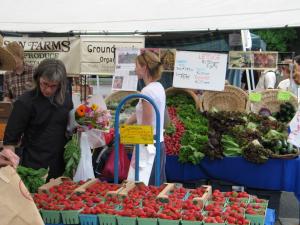 Farmers' market in Portland, Oregon. Photo credit: Garry Stephenson, Oregon State University
There are many approaches to farm direct marketing. Some have been around for decades others are have been developed more recently. The most common types of direct marketing are:
Community supported agriculture is a relatively recent and innovative concept that is intended to create a relationship between farmers and consumers wherein risks and bounties are shared. CSA customers buy shares for a season by paying a fee in advance. In return, they receive a regular (in most cases weekly) selection of food. Having cash in advance of the growing season and a regular customer following provide financial security for farmers. The regular supply of food grown on the farm provide nutritional security and a sense of community for customers. On some farms, get-togethers with customers or workdays are part of the agreement. In its purest form, customers share in the risk of low production and crop failures, as well as any abundance, by receiving less or more food. This aspect has seen a variety of adaptations on CSA farms.
Generally, families pay about $400 to $600 per share. Operating a CSA requires excellent crop management skills to provide attractive and diverse weekly food baskets, as well as good customer service. CSA can be integrated with farmers' market sales and other techniques. It has been an excellent start-up strategy for many small organic farms, providing crucial cash flow at the beginning of the growing season and allowing farmers to "boot strap" their way into farming.
CSA Resources
A farmers' market is a place where a number of growers assemble on a particular day to sell farm products directly to consumers. The sites are often parking lots, streets closed during the market, parks, etc. Farmers at these markets sell their products from "stands" that may consist of the back of a farm truck or a simple tabletop to elaborate and attractive covered displays.
Farmers generally receive retail prices or higher for their products. Start up costs for becoming involved in a farmers' market can be very inexpensive—just a stall fee in some instances. Because of the low start up investment, farmers' markets can provide a low risk setting for new farmers or an opportunity to try out new products. Many farmers participate in more than one market to increase their sales.
Farmers' markets also provide the opportunity to build a customer base. Some farms advertise other outlets for buying their products (other farm direct marketing methods, or retail stores for instance).
Farmers' Market Resources
Tools for rapid market assessments. L. Lev, L. Brewer, and G. Stephenson. 2008. Oregon State University Extension Service. (Available at: file:///Users/user/Downloads/SR_no.1088_ocr.pdf (verified 30 Mar 2023).
Most farmers' markets lack information to make effective changes and improvements. This publication by Larry Lev, Linda Brewer, and Garry Stephenson of Oregon State University describes three simple, low-cost methods to address the information gaps: attendance counts, dot surveys, and comments and observations.
Starting and operating a farmers' market: Frequently asked questions [Online]. B. McKelvey, M.Hendrickson, and C. Weber. 2008. University of Missouri Extension. Available at: https://extension.missouri.edu/media/wysiwyg/Extensiondata/Pub/pdf/aggui... (verified 30 Mar 2023).
From University of Missouri Extension, this guide is intended to be a resource for people who are either starting a new farmers' market or improving an existing market. The guide follows a frequently asked questions format, provides brief answers to each question and then directs readers to free, online publications that answer the questions in more detail. In addition to addressing questions faced by market organizers across the country, the guide includes information about legal and regulatory issues for farmers' market organizers in Missouri.
The art and science of farmers' market display [Slide show]. Entrepreneurs and Their Communities Community of Practice. eXtension. Available at:http://www.extension.org/pages/10986/the-art-and-science-of-farmers-market-display#.U87YRBD5eTQ (verified 5 Mar 2010).
Enhancing the success of northwest farmers' markets. G. Stephenson, L. Lev, and L. Brewer. 2006. Oregon Small Farm Technical Report Number 22. Oregon State University Extension Service. Available at: https://agsci.oregonstate.edu/sites/agscid7/files/techreport22.pdf (verified 30 Mar 2023).
This executive summary of a large project examines the conditions associated with success and failure of individual farmers' markets and provides information and recommendations for market organizers to assist with their decision making and strategic planning. It explores historic trends related to growth and decline in market numbers; it examines the management organization associated with markets of specific sizes; it looks at the characteristics and issues associated with markets that fail; and it synthesizes a model that illustrates how farmers' market organizers successfully adapt to barriers and challenges in their environment.
U-Pick or Pick-Your-Own farms grow crops specifically to be harvested by customers. In this manner, the task of picking the crop, one of the higher costs of growing fruits and vegetables, is passed on to customers. U-Pick farms have traditionally appealed to families who do home canning. There continues to be an interest by families in picking produce for fresh use and, in some instances, having their children experience where their food comes from. As with many direct marketing techniques, U-Pick operations can be blended with other marketing techniques such as roadside markets, farmers' markets, and so on.
Farm stands or markets are structures of some type from which the farm's products are sold. They can range in sophistication from a stand with a coffee can for purchases by honor system to a building with refrigerated storage and several employees. They tend to be located on the farm, often on a well-traveled road with good access and parking. They can operate seasonally or all year and focus on one product or a full line of products. Roadside markets usually charge near retail prices. Given that farm stands or markets are structures, they are subject to local building codes and highway setback regulations.
Many farms are now marketing directly to restaurants providing the specific products and the high quality that chefs are demanding. Many restaurants cultivate relationships with farms even noting the farm name and its product on their menu. These restaurants serve a niche of customers who find high quality food produced locally appealing. Supporting local farms is a philosophical goal for these restaurants.
Similar opportunities for farm direct sales are to institutions that serve food to large or "captive" groups such as:
Hospitals
Retirement and nursing facilities
More
Restaurant Marketing Resources
Selling to restaurants. J. Bachmann. 2004. National Center for Appropriate Technology (ATTRA). Available at: https://attra.ncat.org/publication/tips-for-selling-to-restaurants/ (verified 30 Mar 2023).
"Upscale restaurants serving locally-grown produce are in the headlines nationwide. Growing for this market is both lucrative and demanding. Profiles of growers from around the country illustrate successful strategies and points to remember when working with chefs. A Spanish language version of this publication is available as Nuevos Mercados para Su Cosecha."
Recommendations for Farmers and Chefs who Want to Work Together
The Local Food Connection and Farmer-Chef Connection are programs that bring farmers and chefs together for a day of networking and deal making. Read Notes to a Farmer and a Chef to learn how farmers and chefs can best work with each other. The Farmer-Chef Connection is a project of the Portland Chefs Collaborative and the Local Food Connection is a project of the Cascade Pacific RC&D.
Tip Sheets
Selling directly to restaurants, retailers and institutions can be a great way to expand your business and develop a reliable customer base. Created by Community Involved in Sustaining Agriculture (CISA), these tipsheets are designed to help farmers respond to the unique challenges in reaching out to and maintaining relationships with buyers.
Resources
Agritourism appeals to customers who have a desire to visit a farm and experience its activities. As Americans lose family ties with agriculture, many are interested in maintaining some sort of contact with farming; especially for their children. This is a theme with most types of direct marketing but is a key feature of agritourism. There are a variety of approaches.
On-farm bed and breakfasts allow overnight stays to relax in a bucolic atmosphere or, in some instances, work on the farm. The concept of "farm stays," popular in Europe, is catching on in the U.S. Hay rides to gather Halloween pumpkins or Christmas trees and other family-oriented activities are popular on farms. Other activities such as cattle drives attract customers who are willing to pay to experience a celebrated part of our past and present. Agritourism and entertainment techniques can work in both urbanized areas and very rural areas. As with many direct marketing techniques, people skills are crucial.
The internet provides a convenient method to advertise the farm business, sell products, and communicate with customers. Most households have access to the internet in their homes. This is a potentially large market for specialty farm products.
Farms may advertise on the internet by developing their own web sites or by participating in web-based farm directories. Farm homepages are an effective means for informing customers of products the farm grows, when they are available, and how to obtain them. Related blogs report on-farm or family activities. A farm may offer details on its CSA or identify which farmers' markets it sells at. These types of web pages allow customers to see the farm and the people who work there. This enhances the personal aspect of farm direct marketing that many people find appealing. There are also opportunities for sales via the internet. Value-added or even fresh food products may be shipped to customers throughout the country. The internet is a quick and easy method for communicating with established customers. The latest information on product availability, farm news, and other information may be distributed to customers through an email list.
Online Marketing Tip Sheets
Looking to create or improve your online marketing? Download one of these four tip sheets for pointers and guidance. They're full of useful tips and real-life experiences from local farmers. This series was created by Community Involved in Sustaining Agriculture (CISA).