Micaela Colley, Organic Seed Alliance
Laurie McKenzie, Organic Seed Alliance
Alex Stone, Oregon State University
Linda Brewer, Oregon State University
Brian Baker, Organic Materials Research Institute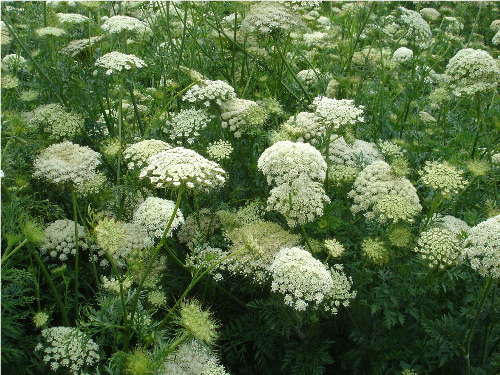 Carrot seed crop in flower. Photo credit: Micaela Colley, Organic Seed Alliance
This guide is intended for producers and agricultural professionals seeking information about organic seed production. Most of the resources are focused in the Western Region of the United States (OR, WA, ID, and CA), but much of the information may be applicable to all climatic regions. In each section of the guide you will find a brief introduction followed by a list of available web and print resources and references to organizations and events.
Organically produced seed is seed grown and certified according to the USDA National Organic Program (NOP) guidelines. The NOP requires organic farmers to plant organic seed unless it is not commercially available. The NOP requirement for certified organic seed states "…The producer must use organically grown seeds…except…non-organically produced, untreated seeds and planting stock may be used to produce an organic crop when an equivalent organically produced variety is not commercially available…" (§ 205.204). Non-treated, non-GMO conventional seed is allowed when equivalent organically produced varieties are not available.
The NOP seed regulations and resulting increase in demand have stimulated organic seed research, production and marketing. However, gaps in organic seed education, technology, production and infrastructure support still remain. Prior to the NOP organic seed ruling. a small but significant organic seed industry existed. Experienced organic seed growers are now in demand as seed companies seek to produce quality organic seed. Growth in organic seed production has come in part from organic farmers moving into seed production and conventional seed growers moving into organic production. Some organic growers have also started producing their own supply of organic seed. As the market has grown the organic seed industry has faced challenges such as maintaining genetic and physical purity, managing seedborne diseases, and developing organically approved seed treatments and coatings. At the same time, evidence is growing that breeding and selecting varieties within organic systems can improve crop performance, and organic management can produce seed of very high quality.
Worldwide, seed production of many crop species is clustered within a few degrees of the 45th parallel. Successful seed production occurs in areas with long hours of sunlight during the growing season, mild winters (but enough chilling to effect vernalization), dry summers, fertile soils, and water for irrigation. These requirements are met in many areas in the Western Region.
The Western Region of the United States has a significant population of certified organic producers and an established conventional seed industry making it ripe for growth in the organic seed sector. The region offers varied environmental conditions suitable for high-quality production of a diversity of seed crops. The long summer days and mild climate of northwestern Washington are ideal for production of spinach and several Brassica seed crops. The hot, dry summers of central California produce high quality tomato and pepper seeds. The long warm summers of the Willamette Valley in Oregon are optimum for a diversity of specialty seed crops including lettuce, beets, and Brassicas. The dry, arid, low-disease pressure conditions of Idaho and eastern California permit production of bean and pea crops that meet seedborne disease standards.
Commercial seed production in the Western Region dates back to the 19th century. By the 1940s, most major U.S. seed companies had established cleaning and distribution facilities in this region. Politics has long played an important role in the development of agricultural enterprises. Before World War II, Western Europe was the center for vegetable and flower seed production. World War II accelerated development of many industries in the U.S., including the specialty seed industry, largely because European production and exports were interrupted. The blockade of the North American Atlantic coast cut off the U.S. from its European seed suppliers. The latitude, climate, soil types, and relative isolation of Oregon and Washington made them ideal for seed production. Isolation districts, pinning maps, seed certification, seed cleaning, and testing facilities are examples of infrastructure that promote varietal integrity and support the development of a regional seed industry. As the organic seed industry in the Western Region grows it faces the challenges and opportunities of integrating organic standards and regulation with the conventional seed industry standards and regulations. One example is the management of transgene (GMO) cross contamination. Conventional and organic seed growers, non-profit organizations, and seed companies are often working together in the Western Region to represent the interests of the seed industry as a whole.
This guide provides technical information, references, and resources to support the development of a viable organic seed sector.
Table of Contents
Information on Organic Seed
Organic Seed Production Resources
Resources, References and Organizations Useful in Organic Seed Production
Further Reading
History of specialty seed crop production in the Pacific Northwest. R.L. Rackham. 2002. Willamette Valley Specialty Seed Crops Association, Corvallis, OR.