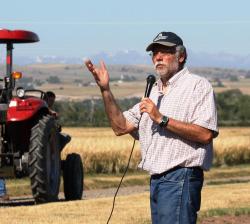 Fabian Menalled is an Associate Professor in Weed Ecology and Management at the Department of Land Resources and Environmental Sciences at Montana State University. He received a Bachelor of Science Degree in Ecology from the University of Buenos Aires, Argentina, and his PhD in forest ecology from the University of Massachusetts.
Fabian's current research focuses on understanding the ecological basis of sustainable agriculture and integrated weed management. This program embraces a multi-disciplinary approach to address both basic and applied problems facing the agricultural communities of Montana. Core areas of research include 1) Patterns and functional importance of weed diversity 2) Development of integrated weed management practices, 3) Role of wheat variety, weed biotype, and stress on virus transmission and crop-weed competitive interactions, and 4) Evaluation of new and existing herbicides for weed management and crop safety. Fabian also conducts Extension educational programs to address local, regional, and national concerns associated with the economic, environmental, and social sustainability of the agricultural enterprise.
In January 2014, Fabian became the eOrganic Community of Practice (CoP) leader, ensuring that eXtension continues to develop high quality certified organic production information.